Suicide blast kills dozens of Iraqi police recruits
Suicide bomber detonates explosives-laden vest outside crowded police recruitment centre in Tikrit, killing at least 60 people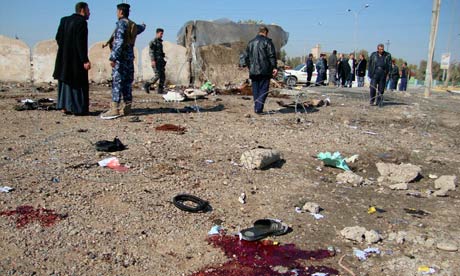 A suicide bomber targeting a police recruitment line in the central Iraqi city of Tikrit killed at least 60 people today, with the death toll expected to rise further.
The attack is the most lethal to have hit
Iraq
for at least six months, and again underlines the ability of insurgents to target the country's institutions despite much-lauded security gains.
Police and military recruitment centres have been a favoured target of Sunni insurgents and militant operatives of the former Ba'athist regime.
Tikrit was Saddam Hussein's birthplace, and remains a stronghold of his residual support base. The Ba'athist leadership is thought to comprise a core group of around 200 former officers who direct terror attacks using operatives remaining interwoven throughout the security forces.
"This was a massive deficiency in security," the head of Tikrit's governing council, Ammar Yousef, said, echoing remarks made after numerous earlier attacks on other security recruitment centres.
"If we can prove that there was a lapse in the work of the security chiefs, we will punish them. We demand that the government pay each of the martyrs $1,700 and each of the wounded $850."
Ba'athists were immediately accused of playing a role in the attack. However, attention quickly shifted to
al-Qaida
in Iraq, which has regularly used suicide bombers to undermine the government's security credentials throughout the past six years.
The suicide bomber struck just after 8.30am local time after infiltrating a line of would-be recruits in a main square in central Tikrit.
At least 150 people were injured in the attack. Many were left with serious wounds, and are not expected to survive.
The method of attack was identical to numerous previous strikes on recruitment centres, mainly in Baghdad and Mosul. The suicide bomber, with an explosive vest, was able to bypass lax security and detonate his explosives amid large numbers of men.
Tikrit's deputy police chief, Brigadier Jassim Hamid, dismissed claims of a security lapse. "The explosion occurred outside the checkpoint," he said.
"Three days ago, the local council called for 2,000 extra police officers, with 200 to turn up at each recruitment centre. The suicide bomber pretended to apply. Al-Qaida's fingerprints are on this attack."
Dr Bashar al-Duleimi, a surgeon at Tikrit hospital, said all the city's medical centres were overrun. "We are all full of serious injuries ... at least 150," he said.
Recruitment centre bombings have regularly exacted heavy tolls. Two similar bombings in Baghdad last summer also claimed between 50 and 60 lives.
Al-Qaida in Iraq was believed to be responsible for both blasts, as well as the brutal siege of a Baghdad cathedral, which left 53 dead and scores more wounded in October.
Iraq's government has since claimed al-Qaida is largely defeated in Iraq, echoing US military claims made in 2008. Large-scale explosions have become infrequent. However, Sunni insurgents are still credited with almost daily targeted attacks on officials, particularly in Baghdad, Diyyala and Mosul.
Iraqi security officials have told the Guardian that al-Qaida in Iraq has re-orientated towards its original hardcore ideological roots, having shed criminal elements or opportunists throughout six years of violence.